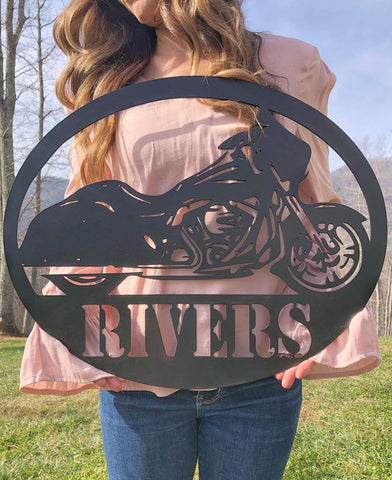 Surprise Your Biker Dad with Lasting Memories in Steel!
Looking for the perfect personalized gift for your beloved biker dad? Look no further! Our custom monogram steel art is the perfect way to cement cherished memories in a rugged, enduring style that dads everywhere love.
Crafted from high-quality American steel and proudly made in the USA, our steel art pieces are the real deal Holyfield and we make them exactly how you want!
🔥 Key Features:
Dimensions available in 15" x 12 1/2", 18" x 14 1/2", 24" x 19 1/2", and 36" x 28".
Each piece is handcrafted to order, making every creation one-of-a-kind.
Our powder-coated finish ensures exceptional durability and weather resistance, allowing you to proudly display it indoors or outdoors.
🎨 Customization: Personalize your monogram with your dad's name by simply entering it in the "Enter Name Here" section, and we'll create a masterpiece that reflects his unique style.
Give your biker dad a gift that will last a lifetime, just like the memories you've shared. Don't wait; make this holiday season unforgettable!
Order yours now and let your dad feel the warmth of your love every day. Thank you for considering us, and we can't wait to create something special for you and your biker dad! 🏍️
Street Glide
Description

Surprise Your Biker Dad with Lasting Memories in Steel!

Looking for the perfect personalized gift for your beloved biker dad? Look no further! Our custom monogram steel art is the perfect way to cement cherished memories in a rugged, enduring style that dads everywhere love.

Crafted from high-quality American steel and proudly made in the USA, our steel art pieces are the real deal Holyfield and we make them exactly how you want!

🔥 Key Features:

Dimensions available in 15" x 12 1/2", 18" x 14 1/2", 24" x 19 1/2", and 36" x 28".
Each piece is handcrafted to order, making every creation one-of-a-kind.
Our powder-coated finish ensures exceptional durability and weather resistance, allowing you to proudly display it indoors or outdoors.

🎨 Customization: Personalize your monogram with your dad's name by simply entering it in the "Enter Name Here" section, and we'll create a masterpiece that reflects his unique style.

Give your biker dad a gift that will last a lifetime, just like the memories you've shared. Don't wait; make this holiday season unforgettable!

Order yours now and let your dad feel the warmth of your love every day. Thank you for considering us, and we can't wait to create something special for you and your biker dad! 🏍️